David Nance Group: June 8, 2019 Union Pool
2 min read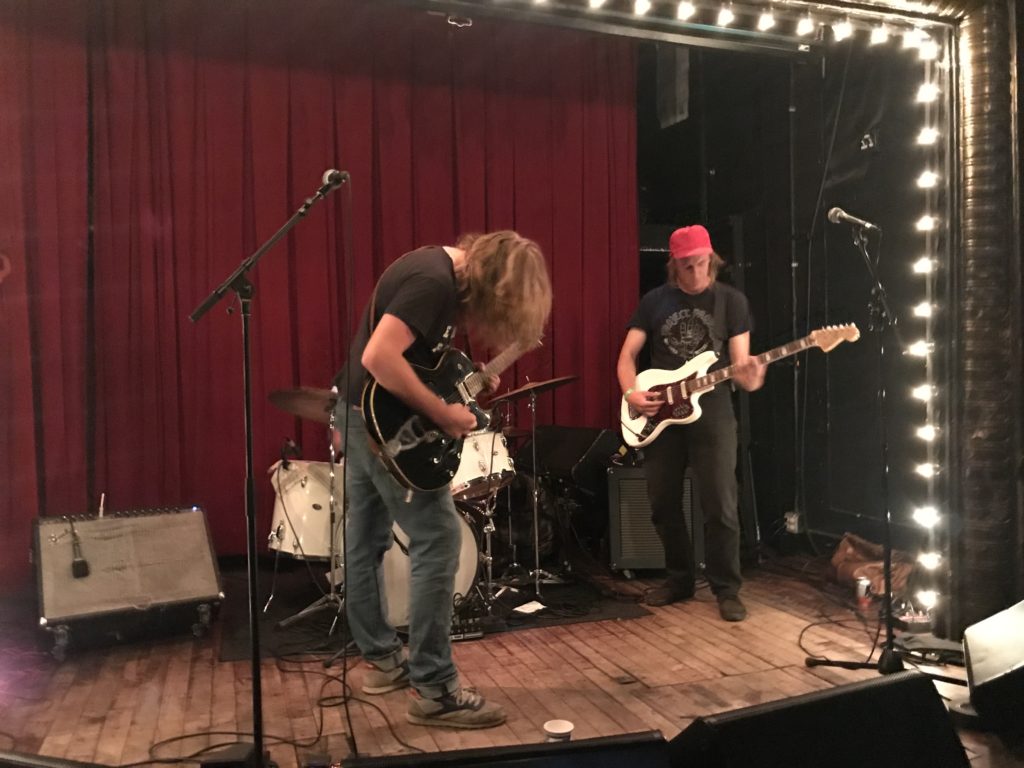 With no slight intended to Nebraskans, David Nance arrived seemingly out of nowhere last year with Peaced and Slightly Pulverized. But in reality he's been highly prolific, furiously releasing original material alongside wonderfully-dazed full album covers of classics like Berlin, Goat's Head Soup, and the gloriously-descriptive Doug Sahm and Band Do 90% of the Cocaine in the World in 1972 and Make a Record. Nance doesn't seem overly precious about handling his or others' music—preferring the energy of basement recordings to studio perfection—but clearly he has great reverence for it. His guitar playing and finely wrought lyrics are often disguised by an effortlessness that makes them all the more charming. That is, your typical David Nance song is baked, but not half-baked. For the recently released "Meanwhile" b/w "Credit Line" 7″ on Third Man Records, the two short cuts come off as ragged, bottled lightning, gone before you know it. But that's Nance's aesthetic, his nonchalance masking a gift for finding the sublime in the awful and mundane (see "Credit Line" or "In Her Kingdom").
I missed Nance and band at Union Pool last year when they toured for the album and vowed not to do it again when they came around a couple weeks back. This set rests heavily on new material, with only "Poison" representing Peaced and Slightly Pulverized, plus "Meanwhile" and "Credit Line" from his recent single rounding out the released songs. Sometimes you just want to hear the songs you know, but I was mildly prepared for the new stuff from listening to this live compilation from his Bandcamp page. "Cure Vs. Disease" and "Give It Some Time" are earworms for sure, with Nance's irresistible vocals providing the hard sell. The only question is when's the next one coming and where do I send my money?
I recorded this from our usual setup at Union Pool, room mics combined with a board feed from FOH Robert. It retains all the grit you'd want from this band, and sounds excellent. Enjoy!
Download: [MP3/FLAC]
David Nance Group
2019-06-08
Union Pool
Brooklyn, NY
Recorded and produced by Eric PH for nyctaper.com
Soundboard (engineer: Doug) + MBHO KA200N/603A > Naiant PFA >> Sound Devices MixPre-6 > WAV (24/48) > Adobe Audition CC (mixdown, compression, normalize, fades) + Izotope Ozone 5 (EQ, imaging, compression) > Audacity 2.0.5 (tracking, tagging) > FLAC (24/48, level 8)
Tracks [39:09]
01. More Than Enough
02. Credit Line
03. Cure Vs. Disease
04. Poison
05. Give It Some Time
06. Your Name
07. Meanwhile
08. What Could I Do? [Reigning Sound]
09. Pure Evil
Buy Peaced and Slightly Pulverized and more via Bandcamp